Defending world champion Lewis Hamilton had an absolute ball at Losail Circuit winning the first-ever Qatar Grand Prix. He hardly received any resistance from his title rival Max Verstappen this entire weekend. The next stop for the paddock is Jeddah and the Mercedes boss has an interesting update regarding the engine that Hamilton will run.
Wolff has confirmed that the Briton will shift back to the engine he used in Sao Paulo Grand Prix. However, it is expected that this controversial change might not sit right with Red Bull boss Christian Horner. He has been critically vocal about the new engine which makes Hamilton's W-12 a "vastly superior car."
Lewis Hamilton to run his freshest engine in Jeddah
Lewis Hamilton took a 5-place grid penalty in Interlagos after installing a new Internal Combustion Engine. However, he ended up winning the Grand Prix charging through the midfield like a bullet. He shifted back on an older V6 engine for the latest race but Wolff has confirmed that they will use their "spicy engine" for the upcoming Grand Prix in Jeddah.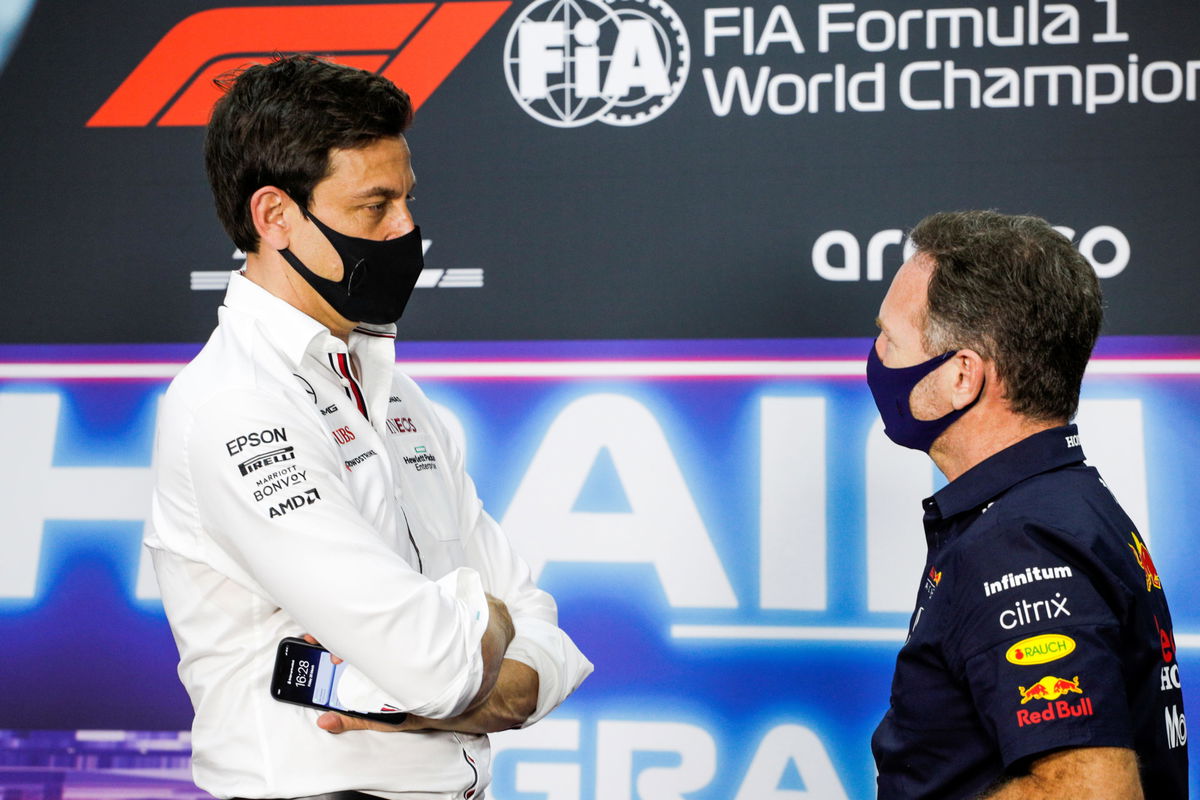 "Saudi should be a good track for us," He told Sky as reported by Crash. "We'll get our spicy engine out for Saudi Arabia that we didn't use [here] and hopefully Valtteri is right up there – we need him. If everybody finishes the race it's [the title race] is going to go to Abu Dhabi," added the Austrian.
Mercedes are on a tremendous run in the last two weekends looking unmatchable on down the straights. Nevertheless, Toto Wolff believes that they need to be on "Maximum Attack" in Saudi Arabia against RedBull.
Controversy around the new engine
RedBull Boss Christian Horner has been extremely critical of Mercedes' rear wing and the new engine. He believes Mercedes carries an unfair advantage going into the weekends. "If we believe the car is not in compliance, we will protest."
"The straight-line speeds that we've seen in Mexico and in Brazil, I mean, I think everybody could see Brazil was not a normal situation," said Horner before the Qatar Grand Prix.
Christian Horner vs. Damon Hill #QatarGP #F1 pic.twitter.com/6FOvEfUrDw

— F1 To Rule Them All (@F1RulesMedia) November 19, 2021
Horner realized the threat Mercedes can pose in Jeddah long before the race due to the controversial rear suspension. However, Mercedes have got a green flag from the FIA and they will look to gain some lead against Verstappen in the upcoming race.
Read Also- "What the Hell" – Charles Leclerc Has an Amusing End to His Qatar GP Weekend
The post Another Setback for Red Bull F1 as Toto Wolff Offers 'Spicy' Lewis Hamilton Engine Update appeared first on EssentiallySports.