The Los Angeles Lakers vs Detroit Pistons matchup was barely anything like we had imagined. Who would have thought the Pistons would lead for the most part of the game, only to eventually lose to the Lakers making a comeback, that too without LeBron James? Wait, why without LeBron James? Well, he was benched because of the scuffle that broke out between him and Pistons' Isaiah Stewart. But unlike most people, DeAndre Jordan found a silver lining to the altercation that became the highlight of the game.
DeAndre Jordan's surprising opinion of LeBron James and Isaiah Stewart tussle
It is safe to say, that this game was nothing less than a rollercoaster for the purple and gold. Despite having a decent start in the first quarter, a team with the poorest scoring in the league was able to drop 42 points on them in the second quarter. Despite keeping their control most of the third quarter as well, the focus of the match shifted to something much bigger.
It was 9:18 in the third quarter when it happened. Jerami Grant's missed free-throw, led to LeBron James and Isaiah Stewart waiting to grab the rebound. In the midst of it all, Bron's arm landed into Stewart's eye, leaving him with stitches. The result of this accident was brutal as Isaiah completely lost his cool and a fight broke out between him and LeBron.
The two teams, officials, and even security had to step in to diffuse the situation. While Bron got the second ejection of his career, Stewart too got one because of his two technicals. However, the Lakers big man DeAndre Jordan saw something positive come out of the scuffle. He said, "It could have made us unravel or it could have brought us together I think it did exactly that. It brought us together."
DeAndre Jordan on tonight's altercation: "It could have made us unravel or it could have brought us together I think it did exactly that. It brought us together."

— Bill Oram (@billoram) November 22, 2021
WATCH THIS STORY: Who Are The Popular Names for This Seasons' MVP Race? Kevin Durant, Jimmy Butler & More
The Lakers really did come together to pull off an upset
Unlike most of their games, Russell Westbrook was key in helping the Lakers rally back in LeBron's absence. From dropping dunks, getting layups, and even hitting a big three from the arc, he was doing it all. He finished the night with 26 points, 10 rebounds, and 9 assists.
As usual, Anthony Davis stepped up when the purple and gold needed him the most. He had a slow first three quarters but ended the night with 30 points,10 rebounds, 6 assists, 5 blocks, and 4 steals that landed them this 121-116 victory.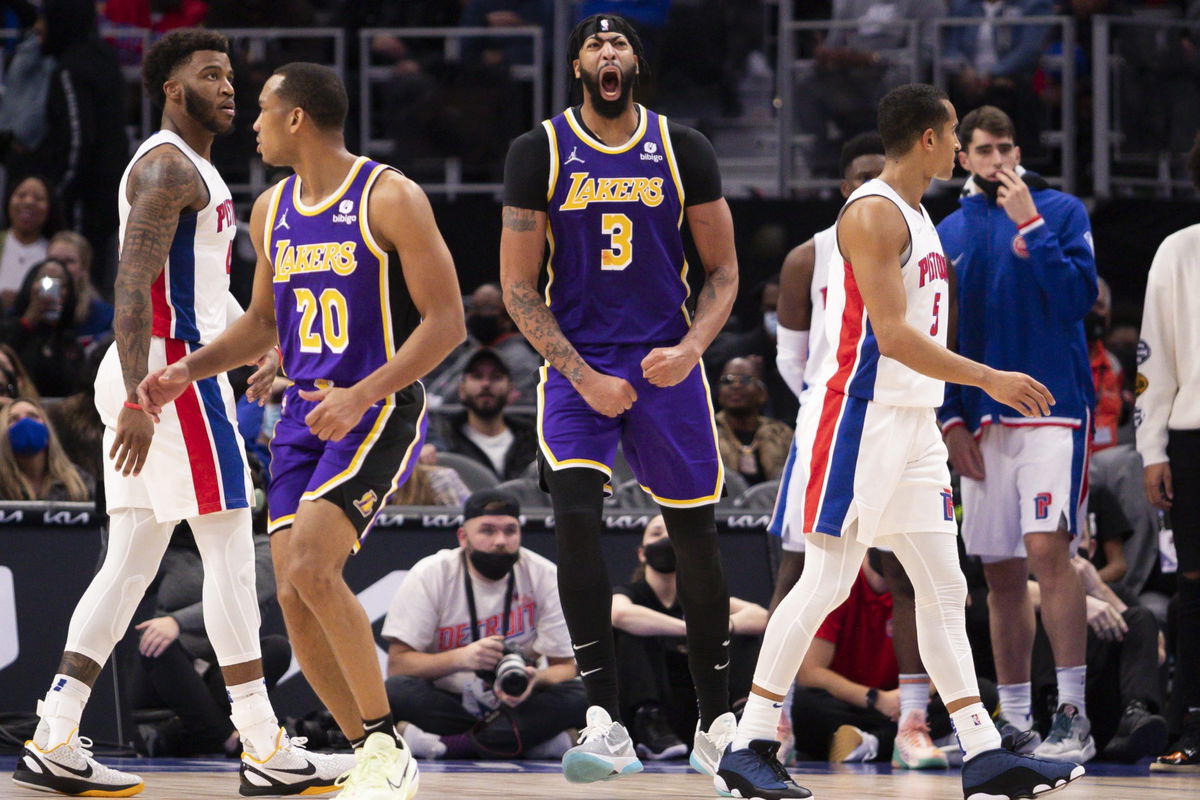 So, maybe Jordan was right after all. Instead of losing control over what happened, the team stuck together to focus on what was important and that was winning the game.
READ MORE: "I'm Proposing A Russell Westbrook For Ben Simmons Trade": Two Year Old LeBron James Video Makes Lakers Fans Go Berserk
The post DeAndre Jordan Believes LeBron James' Scuffle vs Pistons Helped Improve Lakers Chemistry appeared first on EssentiallySports.